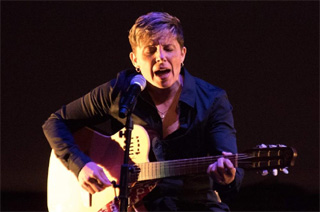 Moving the Jazz Festival Weekend to Sechelt on a Friday night, we are excited to present Susana Williams with her Latin Jazz Trio at Batch 44 for an evening of Afro-Cuban, Brazilian and Mexican classics. The blend of Susana's powerful voice, percussion, piano, bass and guitars will create an evening full of energy, emotion, and Latin flavours. You will hear classics such as "Garota de Ipanema" and "Besame Mucho" performed with great finesse and style."

Susana is a producer, composer, singer, musician and performer. Originally from in Caracas, Venezuela, she is now proud to make the Sunshine Coast her home and leads many group as well as maintaining a solo career. (Watch for Susana also playing on the Hackett Park Stage in Sechelt on Saturday (June 24) afternoon with the 9 piece band Timba Cartel.

Joining Susana will be Sacha Fassaert, another multi-instrumentalist, sound engineer and cameraman on bass and Andre Carrasquero, piano. Born in Canada, Andres lived in Caracas, Venezuela most of his life. He studied in US and after six years of teaching and touring as a classical pianist, he finally crossed over and began a career as a studio musician in Caracas that eventually led him to become a successful producer and musician playing in all major Jazz Festivals in Venezuela.