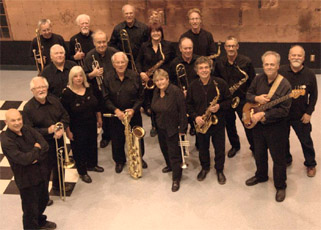 The Creek Big Band is made up of unpaid volunteer musicians who contribute their time and talent for the benefit of Sunshine Coast music students and audiences. The money earned from their paid performances goes toward scholarships for Sunshine Coast students going on to further music studies, and toward miscellaneous band expenses. Their leader this year is Michael Grice and this year they are graced with vocals by Lynne Dickson.

Other members of the Creek Band are: Bryan Airth - trombone, Val Anderson - vibes/keyboard, Lorne Berman - alto sax, Cherry Bolognese - tenor sax, Al Burns - percussion, Gordon Catherwood - trombone, John Frederickson - trumpet, Ken Grunenbertg - tenor sax, Tom Kellough - trombone, Clare Lyle - bass, Jim McGowan - trombone, Walter Martella - trumpet, Carolyn Mitchell - keyboard, Carl Montgomery - alto sax, Bob Newman - trombone, Paul Pedlar - trumpet, Doug Reid - bari sax, Karin Tigert - trumpet, John Tipping - percussion, Bill Wishlow - trombone.

The Creek Big Band is always looking for additional gigs and encourages you, if you want great swing, jazz, and dance music, to book the band for your next dance, party, or other extravaganza. Visit their website at creekbigband.net/bigband.htm.