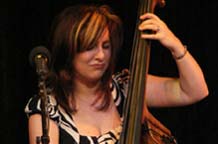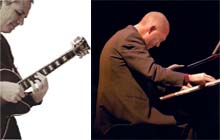 Joining Jodi for her trio will be Bill Coon on guitar and Miles Black on keyboard both stunning musicians and familiar favourites on the Sunshine Coast. We are very excited to hear this group together at this year's Jazz Fest.

Juno nominated bassist Jodi Proznick was awarded Bassist of the Year at the 2007 and 2008 National Jazz Awards. In 1998, she won the IAJE "Sisters in Jazz" competition. She has performed with jazz greats including David "Fathead" Newman, Ed Thigpen, George Coleman, Sheila Jordan, P.J. Perry, Don Thompson and many others. She opened for Oscar Peterson with the Oliver Gannon Quartet at the Orpheum in the summer of 2004 and in 2007. jodiproznick.com

"Bill Coon is one of Canada's great treasures, a master improviser on the guitar, who has performed with many of the great musicians of our time . . ." billcoon.com and Miles Black, keyboard is also an arranger, producer, composer, session musician, guitarist, bassist, saxophonist, songwriter, musical theatre director, music therapist and college level music instructor and a really nice guy. We want all three of them to move to the Sunshine Coast! milesblack.com.